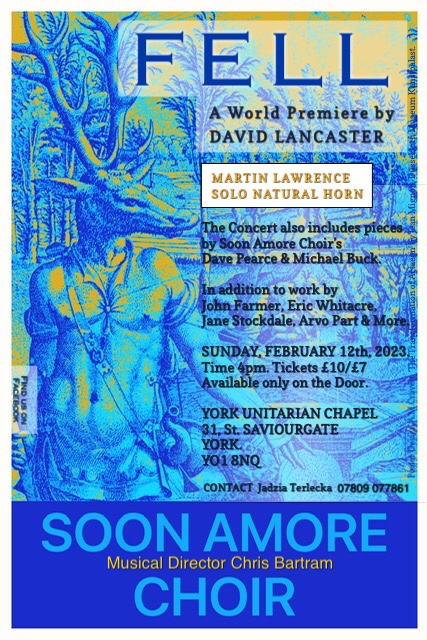 Fell – a world premiere for a cappella choir and natural horn – Sunday 12th February 2023
FELL – a world premiere for a cappella choir and natural horn
Musicians Martin Lawrence, David Lancaster and Chris Bartram first met up together in the early 1980s at York University's prestigious music department. As they were all brass players (Martin played the French horn, David and Chris were trumpeters) they ended up playing together a lot and forging long-lasting friendships.
The following years saw them all develop their music in very different directions. Martin became a professional hornist, eventually specialising in playing natural horn with organisations such as the Orchestra of the Age of Enlightenment. David became a professional trumpeter, university lecturer and composer. Chris taught in schools and universities, before training as a community musician.
Roll on to 2020. It's the middle of the Covid lockdown and Chris is rehearsing York choir Soon Amore online – temporarily 'Zoom Amore'! Part of the rehearsals involve having visiting guest speakers, and Chris invites David and Martin to give talks in their respective fields. Choir chairperson Jadzia Terlecka has a wonderful idea: why not commission David to write a piece for choir and natural horn, with Martin playing the solo part and Chris conducting?!
The result is Fell, a wonderful new piece by David, commissioned with funds by the choir and the British Horn Society. The choir and Martin are currently learning their respective parts to the piece, which will be performed as a world premiere at their next concert on Sunday 12th February 2023, in the Unitarian Chapel, York.
'Fell, writes David, 'is the second of three pieces for choir based on texts from Ovid's Metamorphosis; the first was 'Feathers' (the description of the Sirens) and the third, entitled Flights, will draw upon the tale of Icarus.
'In Fell, we hear of the story of the hunter Actaeon, who was transformed into a stag by goddess Diana, because he saw her bathing, and who met a grisly end when he was devoured by his own hunting dogs. Most of the spoken and sung text is drawn directly from Ovid, but the final refrain – in mock Tudor style – uses words from the first act of Shakespeare's Twelfth Night.
'The title refers to the 'fall' of Actaeon, but also to the adjective describing sudden horror (as in 'one fell swoop'). Fell is also an archaic English word for the soft hide of a dog or deer.'